Business Training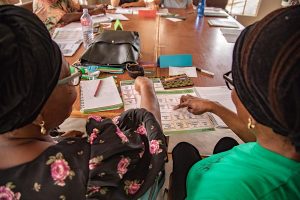 The training that we provide is a simulation based business skills development course that combines theory, workshops, case studies and activities that simulate real market conditions and business scenarios in the training room.
We are using our proprietary Business training course called "EPIC Journey" which has been developed by experts in the fields of business, entrepreneurship, curriculum development, training delivery and practitioners who have spent decades enabling micro businesses to launch and sustain in over 40 countries.
The training is instructor led and the training environment occurs in small groups making use of  role playing, which runs throughout the training programme. This allows the trainer to spend time with the small groups for one-on-one explanations and the workshop/simulation environment allows for fun and friendly participation as well as a great sense of team work as the groups work together to grapple with and solve real-life business scenarios.
The cost is R300 ($15) per person and the training is conducted in the form of 7 modules (4-5 hours each) spanning 3-4 weeks:
The interactive and experience-based EPIC JOURNEY, has the following learning areas and outcomes:
DAY 1 — Different Types of Businesses; Business Cycle; Budgeting; Types of Expenses
DAY 2 — Managing Cash Flow; Basic Record-keeping; Debt and Interest; Gross and Nett Profit
DAY 3 — Understanding the Marketplace; Product, Price and Profit; Managing Risk
DAY 4 — The Marketing Mix; Unpacking Promotion; Basic Business Plan
DAY 5 — Re-visit the Business Plan and Marketing Mix; Negotiation and Contracts
DAY 6 — How to generate ideas, develop innovative solutions and transformation pathways
DAY 7 — Community Development; Cooperatives; Savings Groups; ECTGs
PRACTICAL — between Days 4 & 5, trainees receive a small loan and spend 10-14 days starting and running their own small business.  The Practical time gives the trainees the opportunity to gain real-time, hands-on experience in planning and the daily running of every facet of a small business.
The practical is a mandatory part of the training and certification for completion of the training will not be recognized if this component is not completed.
The aim of the practical is to unlock and teach two critical entrepreneurial principles.
The first is to ask "What do I currently have in my hands or at my disposal?"  Resources, money in my pocket, existing skills, etc.
The second is to demonstrate that wise money management and reinvesting profits is how a business grows.
The third is to unlock the paradigm that business is hard, helping the participants to realise that "I can do it!"